The Town of Williamsburg, Colorado was incorporated on August 12, 1888 by John Silas Williams. Mr. Williams had opened a mine for Colorado Fuel & Iron Steel Corp of Pueblo in the 1880s. Williamsburg began as a settlement first known as "Stringtown," which grew up around mine. The mine was in operation throughout the late 1970s.
John Williams was born in 1825 at Penthely, near Llanbrymair, Montgomeryshire, Wales. He immigrated to the United States with his parents, brother and sister-in-law, when he was 17 years old.  The family first settled in Ohio, arriving at Pomeroy on Christmas Day, 1841. John worked as a dry goods clerk for his brother during the 1870s.
Williams moved to CO with his daughter Emma in 1885. After the coal boom in 1886, there were many establishments: a bakery, several millinery shops, and undertaking parlor, several dry goods stores, two hotels, a post office and several taverns, and NO houses of ill-repute, there was one in Florence that prospered. During the 1890s, John was a coal shipper and manager of a mine at Coal Creek, Colorado. When he died on March 17, 1900 his obituary in The Florence Citizen of March 20, 1900 read: "For over 20 years Mr. Williams has been a prominent man at the camps & has the honor of founding the village of Williamsburg named after him."
Williamsburg existed as a village before being platted by Henry & Willard Teller in 1881 at the end of the line for the coal branch of the Denver & Royal Gorge Railroad's Oak Creek rail branch. Three additions were made to the town in 1882, 1909 and 1917 by different coal related companies. Williamsburg was a cross roads for area coal camps, the shipping point for coal, and residential area for the many miners who worked the nearly dozen or so mines. The population was comprised of Welsh, Irish, English, Scotts, German and Italians.
The town's first purchase was made a short time later in August: a rock building was bought for $97 to serve as a jail. An additional room was built onto it to make it a two-cell jail. With the large number of saloons serving the miners, Williamsburg needed such a facility.
In 1890 the first stone house was built for Louis Francisco, a saloon owner. His family was Venetian mosaic artisans, so, having done so well in business Francisco installed a mosaic floor in it.
The original jail cell doors can now be seen outside of Town Hall. By 1921 the residents saw the need to update the educational facilities and built two new schools. The Wilmont school was built on the bluff to the west of town. After the school consolidation with Florence, the building was used as the Town Hall community center and later became a private residence. The Town is booming again as people realize it is a good place to live. During the "hay days" of mining in the general area (Fremont County) there were 7 company mines and 38 independent or family mines. All are gone now. This was a result of large fires in the towns, and flooding of several mines. Most of the original buildings are also gone. Good reading and more detailed history of the area can be found in a small publication called King Coal – Coal Mining in Fremont County by Antoinette V. Cresto.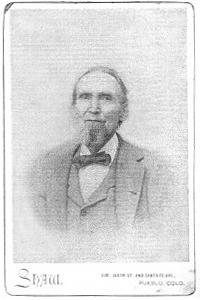 #FFFFFF
RESOURCES:
Matthews, Ruth Eatelle. Colorado Place Names. Stanford University. 1940: 182
"Obituary of John S. Williams." The Florence Citizen, 20 Mar. 1900: 2
United States. Colorado Deptartment of Health. Death Certificate (copy). Denver, Colorado: 20 July 1979.